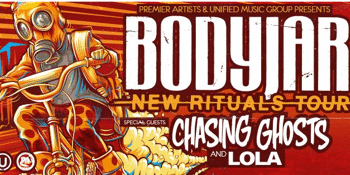 Premier Artists Presents
Bodyjar
with Special Guests
Corner Hotel (Richmond, VIC)
Sunday, 12 June 2022 8:30 pm
BY PURCHASING A TICKET YOU AGREE TO THE CORNER HOTEL
CONDITIONS OF ENTRY
Legendary Melbourne punk rock band Bodyjar recently released their 7th studio album New Rituals.

For nearly 30 years now, Bodyjar have built their local & international following with relentless touring and blistering high energy live shows, that have made them one of the most respected punk rock bands in the world.

Produced by Bodyjar and Sam Johnson (Northlane, Luca Brasi, Camp Cope, The Bennies) and mixed by Steve Evetts (New Found Glory, Architects), New Rituals sees Bodyjar return to the up- tempo catchy punk rock the band are renowned for
. C
alling on all their experience over the years, the new album is a true return to form from one of Australia's finest.
To survive over 25 years as a critically acclaimed and popular international live touring act takes more than good luck...it also takes determination, integrity and a knack for writing great songs. If you've spent any time skateboarding in Australia over the last few decades, your ears would have been assaulted by the sheer melodic mastery of tracks such as Not The Same & One In A Million
.
New Rituals is the 7th LP for Bodyjar which harks back to those songs in what might be their most powerful record yet.
Can't make the event? Sell your tickets fast and fair through our

resale partner Tixel!