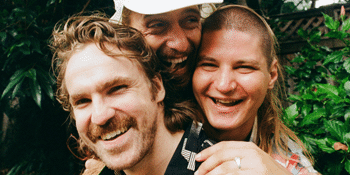 BUGS ('DIAMOND' TOUR)
with special guests Teenage Joans & Melaleuca
Corner Hotel (Richmond, VIC)
Wednesday, 15 December 2021 7:30 pm
Bugs are no longer reserved to the confines of the Brisbane scene in which they made their start, with a whirlwind couple of years shepherding the band and their heartfelt, honest and relatable brand of pop rock to the national stage.
Towards the release of their delicately introspective, pop-laden sophomore album 'Self Help' in September 2019, Bugs swiftly caught the attention of long-time listeners and first-time callers with their bouncing, infectious hit single 'Seriously'. The track was picked up for high rotation by national youth broadcaster triple j, consistently sitting in the station's most played tracks for several weeks.
With a quickly growing fanbase in tow, Bugs soon after hopped on a huge national run with Australian legends Grinspoon, alongside The Gooch Palms and The Hard Aches, where the trio played some of their biggest shows to date.
Without missing a beat, Bugs launched head first into their own sold out national tour immediately afterwards, joined by their best mates Sweater Curse and TOWNS, and performing to adoring fans across the nation in 500+ capacity rooms.
Early 2020 saw the fruits of their labour continue, with an appearance at Falls Festival in Marion Bay, and 'Seriously' landing at #194 in triple j's coveted Hottest 200 list, while the text line rang out with many a "shoulda been higher!".
Amidst their brilliant triple j Like A Version debut in February, rumours of new music started to bubble and build into the release of April single 'Can't Get Enough', which scored praise across the board from the likes of triple j, Spotify, The Guardian, Tonedeaf, and Mixdown Magazine, Aussie community radio more.
While COVID-19 changed the trio's plans for the remainder of 2020, easing restrictions in their beloved home state saw Bugs sell out four socially distanced shows at The Zoo, as well as performing at Airwaves and In Bloom festivals and a sold out show with fellow Brissy favourites WAAX at The Tivoli. The band closed out the year with triple j high rotation single 'Old Youth Feeling', which arrived alongside a promise of another full length record in the coming months, soon to hit the ears of those who just can't get enough of Bugs.
Ringing in the New Year with six sold out shows supporting Mallrat, and their Hottest 100 debut at #91 - as fate would have it, their Like A Version cover of Mallrat's 'Charlie' - Bugs are ready to settle into the hearts of music lovers across the country with their new single 'Diamond'.