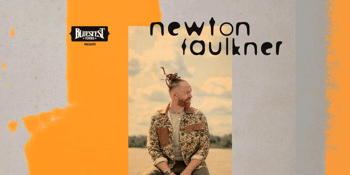 Bluesfest Tours Presents
Newton Faulkner (UK)
With Special Guests
Corner Hotel (Richmond, VIC)
Wednesday, 27 March 2024 7:30 pm
THIS SHOW IS STRICTLY 18+
Get ready to be blown away by the incredible talent of Newton Faulker as he embarks on his highly anticipated tour, stopping at The Corner on the 27th of March, 2024.
Prepare to be enchanted by his soulful voice, mesmerising guitar skills and captivating stage presence. With his unique blend of folk, pop and rock, Newton Faulkner is guaranteed to deliver an unforgettable live performance that will leave you wanting more.
With his chart-topping hits like 'Dream Catch Me,' and 'Gone in the Morning" Newton Faulkner quickly rose to prominence with the success of his debut album, Hand Built by Robots. His subsequent albums, Rebuilt by Humans and Studio Zoo, demonstrate his growth as a musician.
Studio Zoo' was the first album ever to be live-streamed online while being recorded, and it was also recorded and released in just five weeks. Newton then recorded 'Human Love' plus multiple other records over his incredible 15-year career so far.
Newton is now taking this moment to record his next collection of songs. This time a little more production-heavy but still full of powerful vocals, and his signature guitar sound weaved through the mix.
In the past, Newton has often found himself in his home studio working away solo, but not for this next record or tour. The next phase for Newton is full of collaboration which you can feel in the music to come. Seeing these songs come to life on stage is going to be nothing short of joyous.
Corner strives to create a safe space that everyone can enjoy.
Crowd surfing & dangerous behaviour will result in removal from the venue.
Full conditions of entry.
|
Accessibility Info
Can't make the event? Sell your tickets fast and fair through our resale partner Tixel!