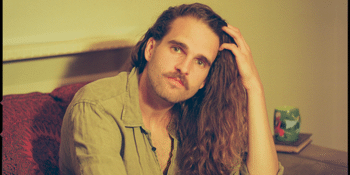 Timothy Wolf & The Howlers - Early Show
WITH SPECIAL GUESTS STEPH STRINGS & RILEY CATHERALL
Corner Hotel (Richmond, VIC)
Friday, 12 November 2021 5:30 pm
Timothy Wolf + The Howler's announce a return to live music with a special and final hometown performance for 2021, taking shape as Wolf's debut self-titled album launch at the renowned Corner Hotel on Nov 12. The Melbourne singer songwriter debuted his solo project with a sold out show at the Night Cat early 2021 in conjunction with his debut single 'In your arms again'. Rolling Stone reviews this marker best saying 'it's so rare for an artist to knock it out of the park so soundly on their debut single.' This came at a time where Melbourne welcomed live music back to its stages with thunderous applause. As we once again focus our attention to the long awaited return of live music, this theme will have come full circle with Wolf's launch being one of the city's first shows emerging from another gruelling lockdown.

Amidst the madness, Timothy Wolf has gone from strength to strength releasing a succession of singles including his brand new song 'Down'. Garnering over 65,000 streams online these singles have woven through genres of soul, blues, folk, and country. Some of which were showcased at Wolf's back to back sold out Northcote Social Club performances earlier this year. Timothy Wolf and his live band the Howler's look to make their stamp on the Melbourne music scene with an album launch at the Corner Hotel which will be an epitome moment for an otherwise lost year for so many in the music industry.

So grab your tickets, dust off your dancing shoes and get 'Down' to the Corner Hotel to be part of Melbourne's live music revival.