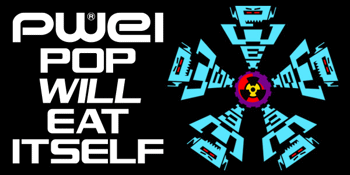 Metropolis Touring presents
Pop Will Eat Itself (PWEI)
with Special Guests Snog + Dubrow
Corner Hotel (Richmond, VIC)
Saturday, 10 September 2022 8:00 PM
Corner has a zero tolerance policy against unsafe behaviour.
This includes crowd surfing and stage diving.
Please help us create a safe space that everyone can enjoy.
Click here for our full conditions of entry.
Brought to you by Metropolis Touring.
England's finest genre-blenders Pop Will Eat Itself aka PWEI return!
Playing "This Is the Day...This Is the Hour...This Is This!" (Can U Dig It?, Def Con One, Wise Up! Sucker) in full!
Plus hear an encore of classics - Ich Bin Ein Auslander, Everything's Cool, Get the Girl! Kill the Baddies!, Their Law and heaps more!
"We try to be entertaining. Obviously we want it to sound good, but we're not trying to present the fact that we're proficient musicians, we're not. It's about entertainment, so if we run about the stage and bump into each other and somebody fluffs a note, it's all part of the fun" – Crabb, on a PWEI live show
"This Is the Day...This Is the Hour...This Is This!" was hailed as a masterpiece ahead of its time. Hear it live with boundless energy that always makes a Poppies show so much fun!
Can't make the event? Sell your tickets fast and fair through our resale partner Tixel!