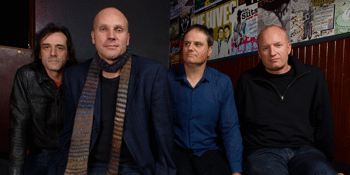 Huxton Creepers
with Special Guests Intoxica + The Gas Babies
Corner Hotel (Richmond, VIC)
Saturday, 27 August 2022 8:30 pm
Corner has a zero tolerance policy against unsafe behaviour.
This includes crowd surfing and stage diving.
Please help us create a safe space that everyone can enjoy.
Click here for our full conditions of entry.
Get ready to rock like it's 1986 with a rare performance from Melbourne's legendary and much-loved Huxton Creepers! With special guests Intoxica and the Gas Babies!
The Huxton Creepers were the first of a new generation of punchy power pop and '60s-inspired rock'n'roll guitar bands in Melbourne in the early '80s; our own version of the Sunnyboys and the Hoodoo Gurus. United by a love of The Saints, The Flamin' Groovies, Iggy Pop, Radio Birdman, Blondie, Creedence Clearwater Revival and the like – all of whom they memorably covered at different points in their career - the Creepers won a generation of fans on the back of their always rocking live performances and some great records.
For the first time at the Corner in over a decade, the original Huxton Creepers (lead singer Rob Craw, guitarist Paul Thomas, later of Weddings Parties Anything and the rhythm section of Matthew Eddy and Archie Law) will crank out their hits like "My Cherie Amour", "The Murderess", "I Will Persuade You" and "Autumn Leaves" as well as fan faves including "Shake Some Action".
Joining the band as they traverse the Time Tunnel will be long time local faves Intoxica (who were born out of two bands who shared many a stage with the Creepers back in the day, the Corpse Grinders and the Olympic Sideburns), and as a super special bonus, another legendary '80s band, The Gas Babies, are getting back together for the first time in over three and a half decades! Fronted by later Bored!-bass player Russell Baricevic, the Gas Babies were Melbourne's first MC5/'Nuggets' style garage band and are fondly remembered for the great cover of the Flamin' Groovies 'Heading For the Texas Border' they released as their only single.
Can't make the event? Sell your tickets fast and fair through our
resale partner Tixel!