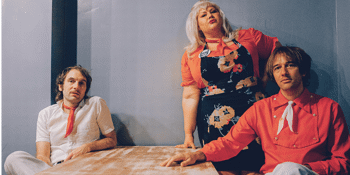 Love Police present
Shannon & The Clams (USA)
with Special Guests Bad Bangs, Hot Tub Time Machine, Imperial Leather and DJ Annaliese Redlich (Neon Sunset RRR).
Corner Hotel (Richmond, VIC)
Friday, 22 July 2022 8:30 pm
Corner has a zero tolerance policy against unsafe behaviour.
This includes crowd surfing and stage diving.
Please help us create a safe space that everyone can enjoy.
Click here for our full conditions of entry.
"Garage-rock" and "Retro-rock" are two terms they're often tagged with, but neither does justice to Oakland's Shannon & The Clams. With their rich and varied aesthetic, great songs and a colourfully textured sound that takes in classic '60s girl-group and '50s R&B doo wop, Shannon & The Clams play souped-up, keyboard and guitar-driven '60s-inspired soulful pop rock'n'roll. With a penchant for minor-key moods and swinging grooves, the group has an emotional authenticity that belies their fun time name and a lively spirit that confirms it, and in Shannon Shaw they have a voice and a presence for the ages. After six albums and nearly as many tours of Oz, Shannon & The Clams have a huge repertoire of killer tunes and the unflagging spirit that makes for the greatest of live bands.
Can't make the event? Sell your tickets fast and fair through our

resale partner Tixel!