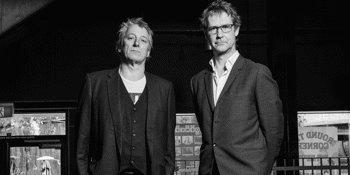 Dan & Al (Xmas Show)
2 x sets
Corner Hotel (Richmond, VIC)
Saturday, 23 December 2023 8:00 PM
THIS SHOW IS STRICTLY 18+

Dan & Al Xmas Show moves to Saturday Night – Dec 23rd

Dan Warner and Al MacInnes have been playing gigs at The Corner Hotel in Richmond since the mid-1990s. First their long-held Tuesday night residency, and then their annual reunion show on the last Sunday before Xmas.

Well, this festive season, after countless years, the Dan & Al reunion show will move to a Saturday night – the last Saturday night before Xmas – 23rd December.
As usual the duo will play the classics ('Bernie', 'Is That What They're Sayin' etc) from their celebrated album 'Isle of Hop'. And, yes, they'll also delve into some of the old favourite live tracks. A deep delve.

Hope to see you at the reunion of Dan Warner and Al MacInnes this December. It just ain't Xmas in Melbourne until Dan & Al play their show at the Corner.
The gig is nigh!

More info at:
https://cornerhotel.com/gigs/
https://danwarner.com.au/
https://www.facebook.com/danwarnermusic/
https://www.instagram.com/danwarnermusic/

Corner strives to create a safe space that everyone can enjoy.
Crowd surfing & dangerous behaviour will result in removal from the venue.
Full conditions of entry.
|
Accessibility Info
Can't make the event? Sell your tickets fast and fair through our resale partner Tixel!