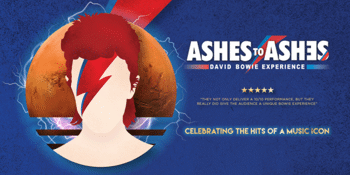 Ashes To Ashes - David Bowie Experience
2 x sets
Corner Hotel (Richmond, VIC)
Sunday, 25 February 2024 12:30 pm
THIS SHOW IS STRICTLY 18+
The spirit of the legendary, the iconic, the revolutionary, David Bowie lives on with '
Ashes To Ashes: The David Bowie Experience'
who have earnt
a reputation as Australia's premier Bowie tribute, and been described as "world class". They perform faithful versions of the songs that span Bowie's stellar 5 decade, 27 studio album career in a stunning two-hour concert production.
Ashes To Ashes won the hearts of thousands of fans across the country on their 2023 tour that saw them tour in NSW, VIC, SA and QLD, and resulted in standing ovations and earning acclaim from enthusiasts that likened them to the late and great Bowie! "An exhilarating experience and emotional roller coaster commemorating Bowie with respect, sensitivity and raw talent" cited one fan. "I was extremely impressed with the attention to authenticity. Very skilled musicians and the singer was extremely talented in his ability to reproduce Bowie's vocal range," wrote another.
Having received an exclusive invitation to headline at Let's Dance Carinda in New South Wales, an annual festival held in the Outback town where Bowie's iconic 'Let's Dance' video was filmed in the mid-80s, Ashes to Ashes prides itself on capturing the quintessential essence of Bowie's live performances and channelling it with pure rock gusto.
Fronted by the exceptionally talented Paul Matthews, an artist whose vocal resemblance to Bowie himself has been described as 'eerie,' Ashes To Ashes boasts a line-up of equally impressive musicians, including Marco Giardini (keys, etc.), Guy Hunt (guitar), Dan Irizarry (bass), Mark Hudson (saxophone, percussion, and more), and Matt Carter (drums). Together, they bring to the stage a seasoned professionalism that has garnered praise as 'fabulous,' 'brilliant,' and 'unbelievable.'
Prepare to be transported through the Bowie universe as Ashes To Ashes performs all of Bowie's illustrious hits, including 'Heroes,' 'Let's Dance,' 'Rebel Rebel,' 'Space Oddity,' 'Ziggy Stardust,' 'Life On Mars,' 'Young Americans,' 'Modern Love,' and more.
Whether you're a devoted Bowie fan or simply someone who has encountered his music over the past five decades, you won't want to miss this critically acclaimed show. Ashes To Ashes - The David Bowie Experience promises an unforgettable night celebrating the enduring legacy of one of music's greatest icons.
Corner strives to create a safe space that everyone can enjoy.
Crowd surfing & dangerous behaviour will result in removal from the venue.
Full conditions of entry.
|
Accessibility Info
Can't make the event? Sell your tickets fast and fair through our resale partner Tixel!