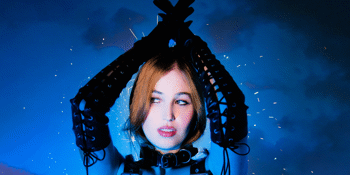 MAM, Ivy League Records & Village Sounds Present
Hatchie - Giving The World Away Album Tour
with Special Guests
Corner Hotel (Richmond, VIC)
Friday, 9 September 2022 8:30 PM
Corner has a zero tolerance policy against unsafe behaviour.
This includes crowd surfing and stage diving.
Please help us create a safe space that everyone can enjoy.
Click here for our full conditions of entry.
Hatchie releases her highly anticipated sophomore album Giving The World Away via Secretly Canadian and Ivy League Records on April 22. Last September, she shared a taste of the new album with "This Enchanted", which The FADER praised saying, "it's shoegaze, it's rave, it's late '90s mall-pop all at once, and it makes the combination seem completely natural." She followed it up with "Quicksand", the album's anthemic lead single, co-written with Olivia Rodrigo collaborator Dan Nigro, which Nylon called "bigger, wiser, and… her glossiest music yet." Subsequent singles "Giving The World Away" and "Lights On" continued to showcase Hatchie's lyrical and musical maturation.
Giving The World Away marks the start of a chapter in which Hatchie infuses her dazzling dream-pop and shoegaze tangle with a deeper and more honest portrayal of herself. "There's more to me than just writing songs about being in love or being heartbroken -- there's a bigger picture than that," Hatchie explains. "This album really just feels like the beginning to me, and scratching the surface – and even though it's my third release as Hatchie, I feel like I'm rebooting from scratch."
Giving the World Away is a sprawling work. Featuring extensive input from long-time Hatchie collaborator Joe Agius, it takes the celestial, shimmering shoegaze and pop sensibilities of her earlier releases, but with the volume knob cranked up tenfold. Built out with percussion from Beach House drummer James Barone, it's synthed-out, sonic opulence, a more structured and ornate musicality with traces of '90s trip-hop and acid house influences.
Giving the World Away is an album about self-confidence, about reclamation, about the strange time in young adulthood where you begin to finally be able to see yourself clearly. Incisive and probing, it is the clearest look at Hatchie yet, and a relic of the power and bravery that spring forth from embracing vulnerability and putting your heart on the line.
Praise for Giving The World Away:
"Disguises its tenderness with confident hooks and walls of distorted guitars." - The FADER
"Sparkling pop music that goes down the gullet like a fresh-cracked can of fizzy pink lemonade." - Nylon
"Combines early-'90s synthpop and shoegaze, somewhere between Electronic and Slowdive." - FLOOD
"Reverberates with an undeniable sense of hope and forward movement that resembles progress." - UPROXX
"A shimmery dream pop confection" - Brooklyn Vegan
HATCHIE GIVING THE WORLD AWAY TOUR
FRI 26 AUG - BRISBANE, QLD @ JIVE
SAT 27 AUG - PERTH, WA @ MAGNET HOUSE
FRI 2 SEP - SYDNEY, NSW @ FACTORY THEATRE
SAT 3 SEP - BRISBANE, QLD @ THE TRIFFID
FRI 9 SEP - MELBOURNE, VIC @ CORNER HOTEL
TICKETS AVAILABLE FROM HATCHIE.NET
Can't make the event? Sell your tickets fast and fair through our

resale partner Tixel!